Lincoln Log Cabin Visitor's Center
Lerna, Illinois


photo: Dan Broten



| | | | | | | |
| --- | --- | --- | --- | --- | --- | --- |
| photo: Dan Broten | | | | | | photo: Dan Broten |




Commissioned through an Illinois First Public Art Grant
Booth Library - Eastern Illinois University
Charleston, Illinois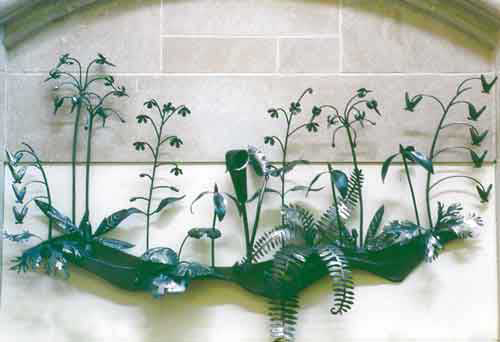 p
hoto: Dan Broten

Woodland Spring

18" h x 48" w
forged and fabricated wall relief located in the Atrium
---



photo: Dan Broten


Center

Panel


72" h x 22 " w




photo: Dan Broten


Detail - Compass Plant,
Mullen, Big Blue Stem,
Chicory, Purple and Prairie Cone




p

hoto: Dan Broten


Prairie Summer
Forged and Fabricated Triptych
Third Floor Conference Area





Photo: Dan Broten


Detail - Purple Cone Flower




Photo: Dan Broten


Detail - Queen Anne's Lace, Chicory,
Purple and Prairie Cone
Omaha Botanical Garden's Welcoming Center
Omaha, Nebraska
The Omaha Botanical Gardens unveiled their new Visitor and Education Center
in October, 2001. Spencer Crews, Executive Director, commissioned
three custom light fixtures for the new building. The first, a copper fern basket,
was installed inside the welcoming gazebo, the main entrance to the building. The other
two are ten and a half feet lanterns which were hung in the main Floral Display Hall.
Copper Fern Chandelier


The Copper Fern Basket is
comprised of individually cut and chaised
leaves that were heated, contoured, and
fastened to the steel basket infrastructure.

The exterior steel frame work and hangers
were forged from mild steel.

This basket measures 5 feet in diameter and
is 32 inches high. It weighs 450 pounds.




Roll Over this Image to See Original Sketch




photo: Lorelei Sims

---

Eight Sided Octagonal Lanterns






photo: Lorelei Sims




Lantern Sketch



photo: Lorelei Sims

Dr. John and I fabricated the 2 octagonal
frames from my design. Each structure
has 2 hinged access doors and a separate
cap was attached during installation. Each
panel holds a hand-poured glass pane.

The botanical elements were all created
using plasma cutting, welding, forging,
and fabricating mild steel.

The flora represented are:
Compass Plant, Big Blue Stem,
Indian Grass, Wild Indigo
Purple Cone Flower,
Prairie Brome, Partridge Pea
and Bird's Foot Violet.


photo: Lorelei Sims